See also: International Recognition of the Republic of Hawaii
King Umberto I of Italy personally signed a one-page letter in Italian to President Dole dated September 23, 1894, recognizing the Republic of Hawaii. Two-page translation into English, translation certified as accurate by the consul of Italy in Honolulu on October 6, 1894 with seal of consulate next to his signature.
Click on the photos to zoom in for more detail.
Original in Italian: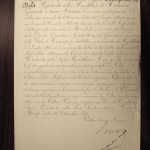 Certified English translation: